Fishing Charters Marathon FL
Are you looking the BEST fishing charters in Marathon FL? You've found the right place.
Book Your Charter
Marathon Fishing Charters
Best in the Keys!
Marathon fishing charters are some of the best in all of Florida! Whether you're looking for deep sea fishing, reef fishing or flats fishing, you can do it all in Marathon. Our captains come highly rated and know how to bring you home with a load of fish!
Hit the reef for some inshore fishing. Fishing here includes Yellowtail, Mutton, Mangrove, Grouper and more!
Go deep for the big one! Fishing here includes Dolphin (Mahi Mahi), Tuna, Wahoo and more!
Marathon Key Fishing Charters
Do you like to fish? Our charter captains have been happily serving Marathon and Big Pine Key, Florida for over 50 years. All of our captains are independent business men and women that have mastered their craft. They know the waters and they know how to bring you home with a bunch of fish. Are you ready to catch some dinner?
Top Rated Fishing Charters in 2018
Captain Hook's Marina
and Dive Center earned another Certificate of Excellence in 2018 for our Florida Keys services. We work hard to provide the highest level of service possible, and we owe a great deal of thanks to our customers who make everything possible for us. Our Marathon FL fishing charters are one of our most requested activities. Book your charter today!
Fishing Charters Marathon FL - Best in the KEys!
Still not convinced? Check out this video of one of our awesome snorkeling trips in Marathon. We saw fantastic aquatic life like turtles, all kinds of fish and birds, rays and so much more!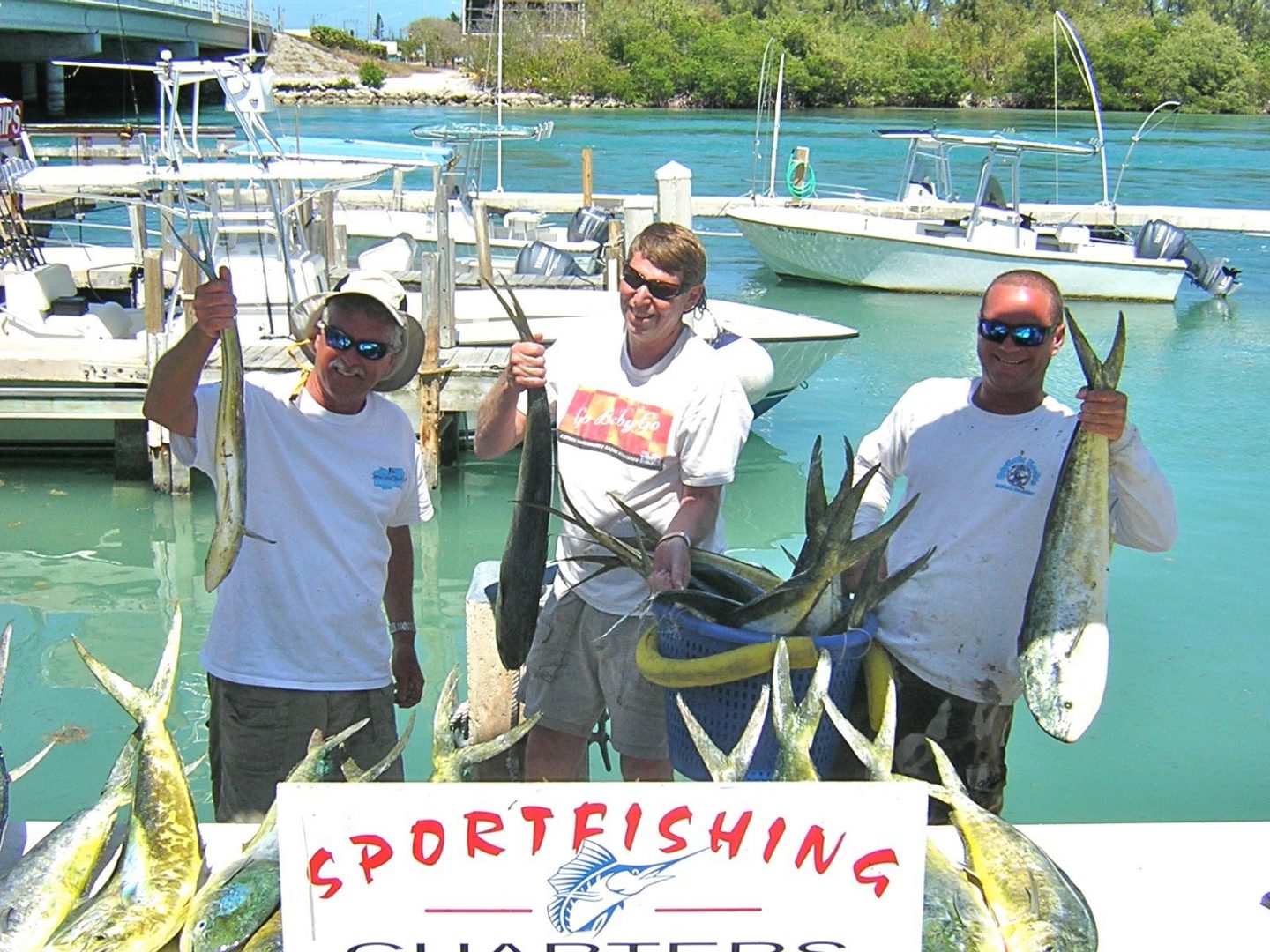 Where Are The Best Fishing Charters in MArathon FL?
If you're looking the best fishing charters Marathon FL, you've come to the right place! Captain Hook's Marina and Dive Center is located at Mile Marker 53 on Vaca Cut. We offer fishing charters every day and we're looking forward to meeting you!
<iframe src="https://www.google.com/maps/embed?pb=!1m18!1m12!1m3!1d28991.328220636824!2d-81.04791746241543!3d24.72976298411574!2m3!1f0!2f0!3f0!3m2!1i1024!2i768!4f13.1!3m3!1m2!1s0x88d0d9800edc75c9%3A0xf9b2ea11010e851e!2sCaptain+Hook's+Marina+%26+Dive+Center!5e0!3m2!1sen!2sus!4v1530055095136" width="100%" height="500" frameborder="0" style="border:0" allowfullscreen></iframe>
"Captain Hooks 
fishing
charter
 was great! TJ was our guide and he never sat down except to drive the boat. He worked tirelessly to make sure we caught fish. We caught tons of yellow tail snapper, mackerel and others. We never had a lull in the fish biting. We had 2 adults and a 14 and 10 year old boys. Wonderful experience. I will not need to call anyone else next trip down to the keys."
"My wife and son went charter fishing with capt. james simcic on a trip to the keys. Capt. James and his first mate were fun and professional. We caught snapper, grouper, and hog fish. My son and wife had a great time. I loved the fact that all we had to do is show up and Capt. James took care of the rest. Fun Times."
<script type="application/ld+json"><!-- [et_pb_line_break_holder] -->{<!-- [et_pb_line_break_holder] --> "@context": "http://schema.org/", <!-- [et_pb_line_break_holder] --> "@type": "Product", <!-- [et_pb_line_break_holder] --> "name": "Fishing Charter Marathon FL",<!-- [et_pb_line_break_holder] --> "image": "https://captainhooks.com/wp-content/uploads/2015/12/tarpon-sport-fishing-charters.jpg",<!-- [et_pb_line_break_holder] --> "description": "Best fishing charters Marathon FL. In shore, off shore and flats fishing.",<!-- [et_pb_line_break_holder] --> "brand": "Captain Hook's Marina and Dive Center",<!-- [et_pb_line_break_holder] --> "aggregateRating": {<!-- [et_pb_line_break_holder] --> "@type": "AggregateRating",<!-- [et_pb_line_break_holder] --> "ratingValue": "4.5",<!-- [et_pb_line_break_holder] --> "ratingCount": "645"<!-- [et_pb_line_break_holder] --> },<!-- [et_pb_line_break_holder] --> "reviews": {<!-- [et_pb_line_break_holder] --> "@context": "http://schema.org/",<!-- [et_pb_line_break_holder] --> "@type": "Review",<!-- [et_pb_line_break_holder] --> "name": "Steve W",<!-- [et_pb_line_break_holder] --> "reviewBody": ""Captain Hooks fishing charter was great! TJ was our guide and he never sat down except to drive the boat. He worked tirelessly to make sure we caught fish. We caught tons of yellow tail snapper, mackerel and others. We never had a lull in the fish biting. We had 2 adults and a 14 and 10 year old boys. Wonderful experience. I will not need to call anyone else next trip down to the keys."",<!-- [et_pb_line_break_holder] --> "reviewRating": {<!-- [et_pb_line_break_holder] --> "@type": "Rating",<!-- [et_pb_line_break_holder] --> "ratingValue": "5"<!-- [et_pb_line_break_holder] --> },<!-- [et_pb_line_break_holder] --> "datePublished": "2015-06-10",<!-- [et_pb_line_break_holder] --> "author": {"@type": "Person", "name": "Steve W."},<!-- [et_pb_line_break_holder] --> "publisher": {"@type": "Organization", "name": "TripAdvisor"}<!-- [et_pb_line_break_holder] --> }<!-- [et_pb_line_break_holder] -->}<!-- [et_pb_line_break_holder] --></script>