Marathon 
Boat Rentals
Fun and Reliable Rental Boats in Marathon with Keyzboats Boat Rentals!
If you want to be a captain for the day or a week, our Florida Keys boat rentals are just what you need! Pilot your own rental boats throughout the Marathon waters. Enjoy fishing, snorkeling, diving, and sightseeing all within the privacy of your own rental. You can discover your own secret fishing spots, dive and snorkel the beautiful reefs, or just soak up the sun at the sandbar. KeyzBoats employees can give you some insight on the new hot spots whether you are looking for that trophy fish or just to catch some rays! All of their rental boats meet the approved Coast Guard safety equipment requirements, are fuel efficient and well maintained. Call today and be captain for a day (or more!).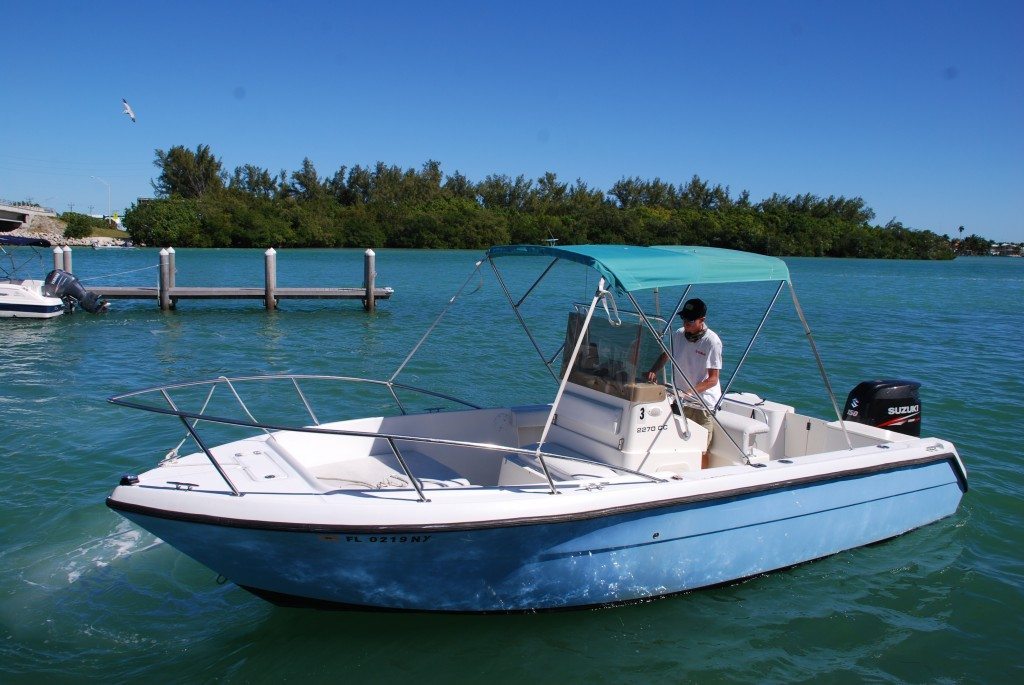 Are we free to travel anywhere?
Yes! KeyzBoats may have a distance from Capt. Hook's restriction with your rental boats.  Please check with them before you decide to go long distances with your rental. KeyzBoats will advise you on the shallow areas when you pick your rental. It's always important to watch the water closely in the shallow areas and look for markers that indicate safe depths.
Are your rental boats equipped for fishing?
Yes, KeyzBoats have several boats equipped for fishing including outriggers, livewells and plenty of storage for your future dinner.
Can we use the boat at night?
No, KeyzBoats do not come with the lights required for night time operation. 
How many passengers can I bring?
Each boat is rated for a different number of riders. It depends on the size of the boat. We have varying sizes up to 12 passengers. Deck boats, in general, are rated for more passengers.
Great Experience
"My husband and I had a great time snorkeling with Captain Hooks! Our crew took the time to explain everything, brought us to a great spot, and we got to see an iconic corral! It was our 1st time snorkeling and it was such a great experience we will definitely do it again!"
- Sara N.
Friendly Crew
"Great excursion to two reefs under the directions of Captain Dave. Boat holds about thirty people of teams of about five to six divers or snorkelers with a Diver Master who is very attentive. The boat also has a very outgoing and friendly crew. Experience a four hour tour that passes by too quickly due to the fun. Please don't forget to bring tips for the Diver Masters and the crew."
- Sam H.
Great Snorkeling Trip
"Great snorkeling trip and brochure perfect day in Marathon. Captain Mike, David & Kevin did a great job. Recommended for everyone."
- Brian L.
Middle Keys Rental Boats
Affordable, Fun for Fishing, Snorkeling, Diving & Sightseeing, Rent a Boat Here in the Middle Keys
There's a new boat rental business in town – KeyzBoats – and they do an awesome job! We have been working with them for about a year now and they have been super.  Click the button below to check out their business and their available rental boats.